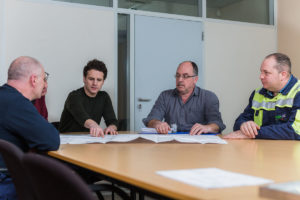 Asotep history
Pascuale Petosa started a one-man business in 1972 while focusing on welding and repairing pipes and large structural works.
After a few years, the demand for piping professional knowledge increased and Pascuale started to employ additional staff. In 1988, the company grew to become Asotep, a public limited company, and it moved to Houthalen. The many years of experience and know-how were mainly deployed in the chemical and petrochemical sectors as from this point. Ten years later, the building in Houthalen became too small and Asotep moved to the current company building in Genk.
Since 2011, Sergio Petosa, Pascuale's son, is the director of the company. The family business has now grown to become a reliable and respected company with 45 employees and 90 contractors.
In 1995, the subsidiary Gilmaso NV was established with identical services in the region of Antwerp that services, for example, the port companies.
Today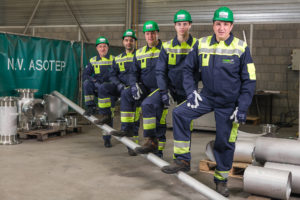 Asotep is an expert in the realisation and maintenance of industrial pipelines and the related steel structures. Our engineers and fitters have ample experience with materials such as carbon steel, stainless steel, Cromesco, aluminium, Incoloy and AST alloys, PE, HDPE and titanium.
Asotep can guarantee a complete execution in accordance with the specifications of the customer. Our coordination department engineers guarantee a perfect execution and installation of industrial piping. The systems are installed at the customer site under controlled conditions.
Prefabrication is Asotep's strength. We plan and prepare complex systems in our workshop in Genk. Our professionals produce very difficult structures here in accordance with the strictest requirements under the close supervision of the engineering team. This means we gain time during the production and downtime at the customer.
A seamless service from construction drawing to decommissioning, that is what Asotep guarantees!
Managing board